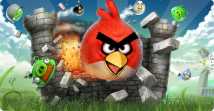 Angry birds is one of popular game played in both touch screen and keypad mobiles.
What is angry bird game?
In this game, we have to destroy all pigs in our path using the angry bird.
Angry Birds avialable for desktop computer
Now this angry bird game is avialable for pc. Angry birds game is available in Intel AppUp store for $4.99.
get angry birds game for pc
1. Register an accountHERE
2. After successfully registering, download this software from here and run it.
3. Open up the program and sign in with your login credentials which you got in step 1. Now, search for Angry Birds and choose it.
4. Now, Buy the game ($4.99). Install and play the game.